Operational Transportation Planning
Build and adapt your route plans in an agile way, while controlling your SLA, your costs and your carbon footprint.
Request a demo
Contact us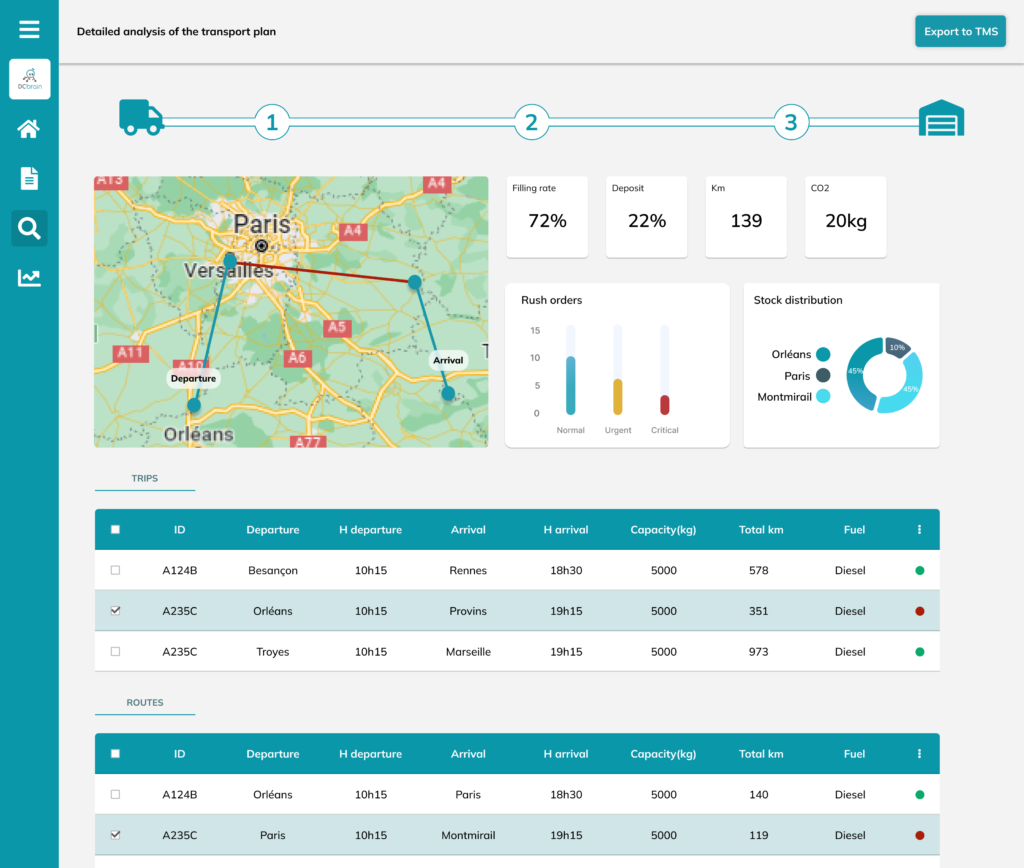 Our solution enables fine-grained modeling of your network, your fleet (internal or external), and all of your management rules. You can analyse your notifications and indicators to rapidly understand the situation. Use our powerful AI algorithms to get recommendations for adaptations.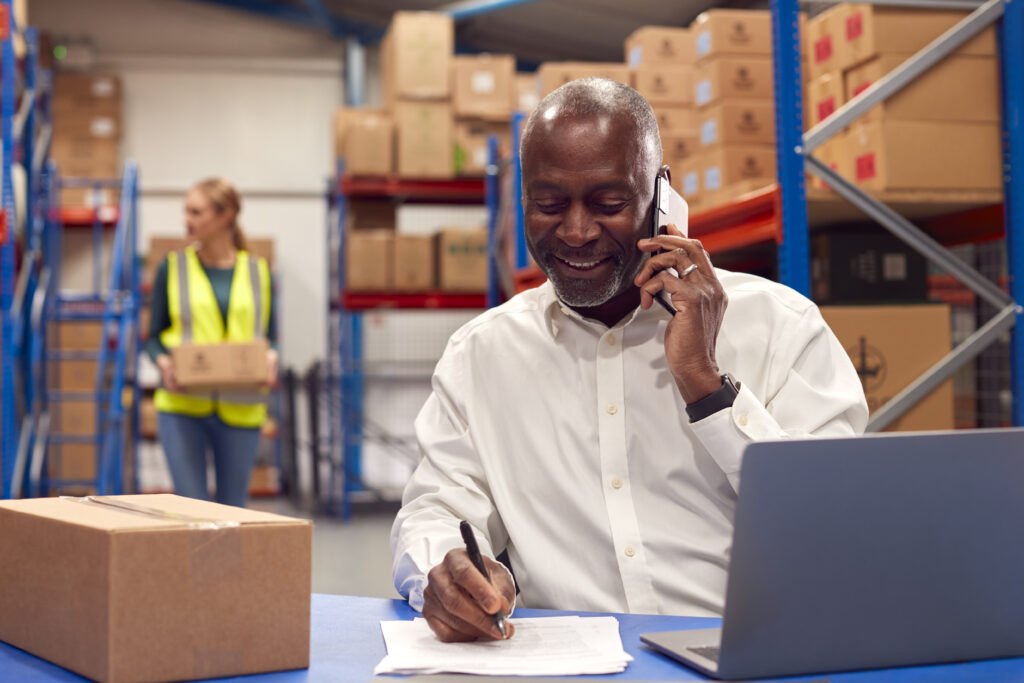 Meet your transportation challenges with our expertise
We have developed our solution in collaboration with operational planning experts who use it on a daily basis, including branch managers, operations managers, flow coordinators and transportation planners. We believe in the power of AI to help planning professionals in their day-to-day jobs and decision-making, to achieve sustainability in an unstable environment.
How can we help You?
Optimise your resource use and adapt your plans in the face of operational hazards
 We give you the means to clearly analyse the performance of your management rules. You can devise and adjust your transportation plans rapidly and frequently, in order to increase your responsiveness to unforeseen events, such as exceptional fluctuations in transportation demand, sick drivers, mutual help between sites and closed roads.
Facilitate your decision-making and focus on the essentials
Our solution suggests feasible and actionable plans by automatically taking into account your requirements and management rules. You can rapidly analyse indicators and notifications in user interfaces that are personalised and relevant to your business processes. You can step in and adjust the plan before approving it at any time.
Achieve your environmental and societal goals
In operational terms, you can assess the impact of your decisions on your environmental indicators (such as distances travelled and CO2 emissions). These indicators can even be used as targets to be optimised by our algorithms. Our tools also make it possible to integrate management rules, such as working time regulations and driver preferences, to make their jobs easier.
Benefits
Calmly manage unforeseen events and improve your responsiveness
Ensure service quality while controlling your costs and your carbon footprint

Digitalize your expertise and processes and make them sustainable
Application Examples
Order consolidation and distribution route planning
Provide optimised route taking into account all requirements

Automate order grouping and allocation to delivery vehicles

Taking into account prioritisation strategies between customers

Track the work order completion rate on a daily basis
Transportation planning with integration of appointments
Take into account your customers' delivery requirements

Comply with regulations on driving times and restrictions 

Integrate new orders as they arise and adapt the plan

Compare the suggested plan with the transportation plan created during the previous cycle to see changes
Identification of the optimal transportation mode
Track operational KPIs: load factor, SLA, costs

Spread the load across carriers and reduce the fluctuation of allocated volumes

Take into account specific price conditions of the various transportation modes 

Decide between route adjustments, spot buys and delivery deadlines
Resources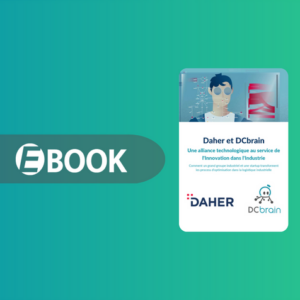 Daher: l'innovation technologique pour la logistique industrielle
Télécharger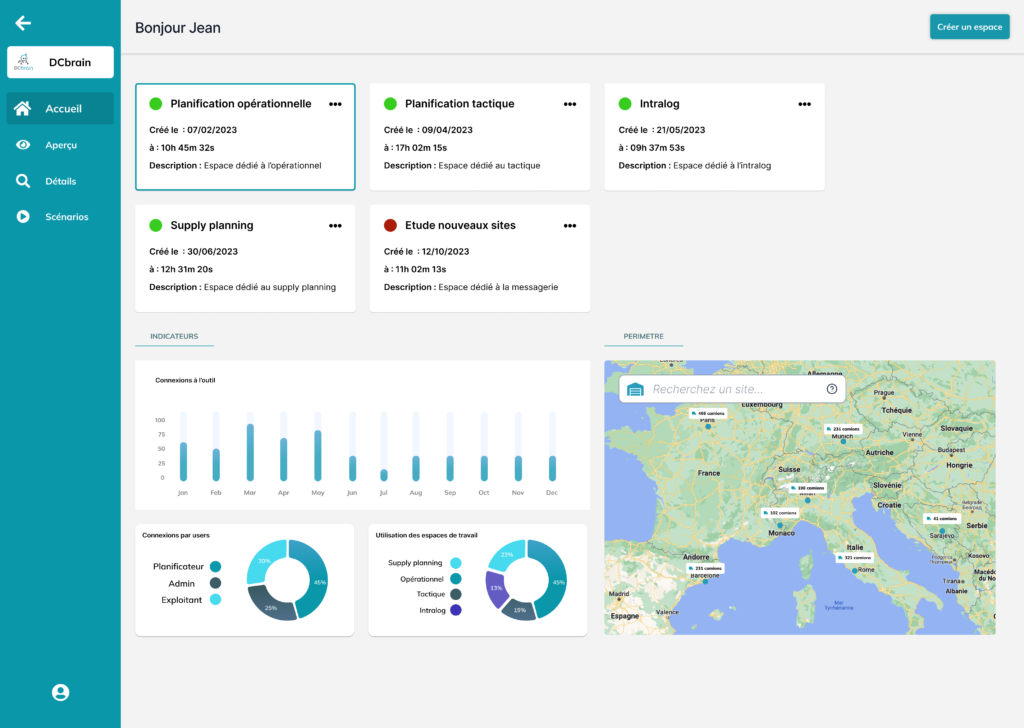 Ready to get started to boost your Supply Chain?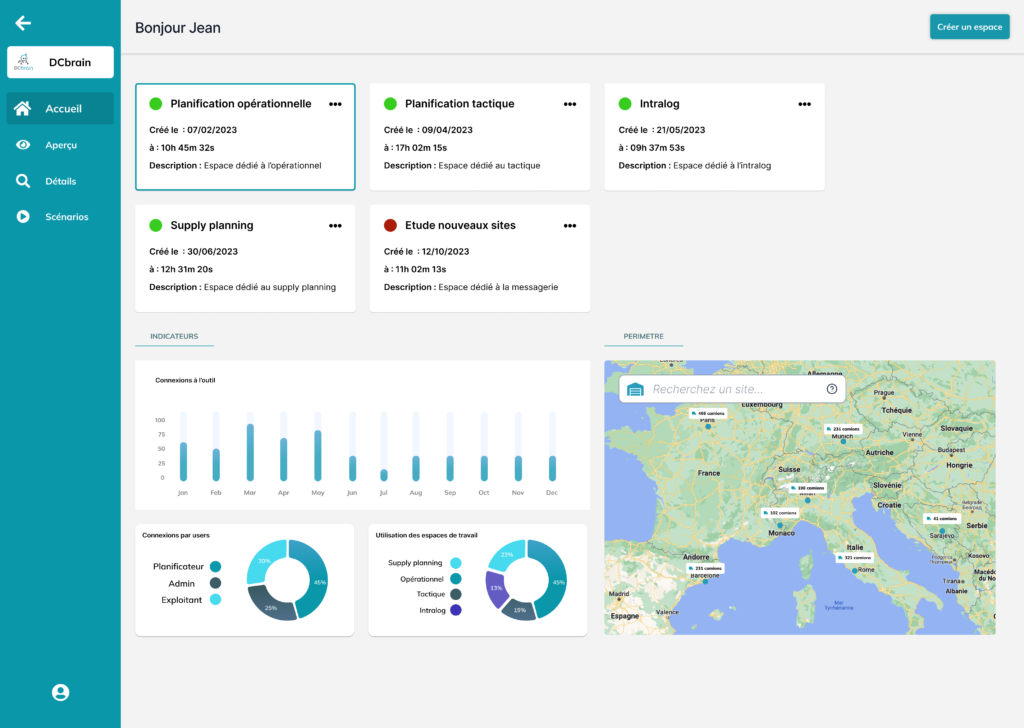 We are convinced that AI can facilitate logistics planning and will prove it to you via a demo.
Request a demo Want to know more about engaged AI?
You want to understand how Artificial Intelligence can simplify the daily life of planners and become your ally on your decarbonisation issues.
I want to know more about engaged AI